Justice Department launches civil rights investigation of Memphis police – 4 essential reads about h
The Justice Department has launched a civil rights probe of the Memphis Police Department to examine allegations of excessive force, improper stops and searches and racial disparities.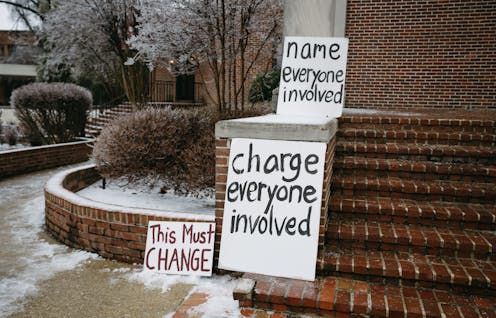 Seven months after the horrific beating death by police of Memphis, Tennessee, motorist Tyre Nichols, the Justice Department, on July 27, 2023, launched a civil rights investigation into allegations the Memphis Police Department routinely used excessive force and, on a systemic basis, discriminated against Black residents.
Although Assistant Attorney General Kristen Clarke said during a press conference that the investigation of the department and city of Memphis is "not based on a single incident or event," she also said, "In January of this year, the nation witnessed the tragic death of Tyre Nichols at the hands of Memphis police."
The Justice Department, Clarke said, received multiple reports of Memphis police escalating encounters with residents that resulted in excessive force and have indications police there use force punitively.
The Conversation has published a range of articles that examine police departments' unequal and sometimes violent treatment of Black people. Here are four articles to help you understand the depth and breadth of the problem. Rashad Shabazz, a geographer and scholar of African American studies who uses location and societal views about groups of people to make sense of police abuse, wrote three of them.
1. Black police officers can be affected by anti-Black bias
Police officers in the United States have always treated Black people as domestic enemies and viewed them as a problem, wrote Shabazz, who teaches at Arizona State University. And ample research indicates anti-Blackness is a factor in American policing from which Black police officers are not exempt.
"American society assumes that Black people are prone to criminality and therefore should be subject to state power in the form of policing or, in some cases, vigilantism – as in the killing of Ahmaud Arbery. This is a link deeply woven into American consciousness," he wrote. "And Black people are not immune. In this way, the long-held targeting of Black men by police and widely held negative beliefs about them are a powerful cocktail that can compel even Black officers to stop, detain and brutally beat a man who looks just like them."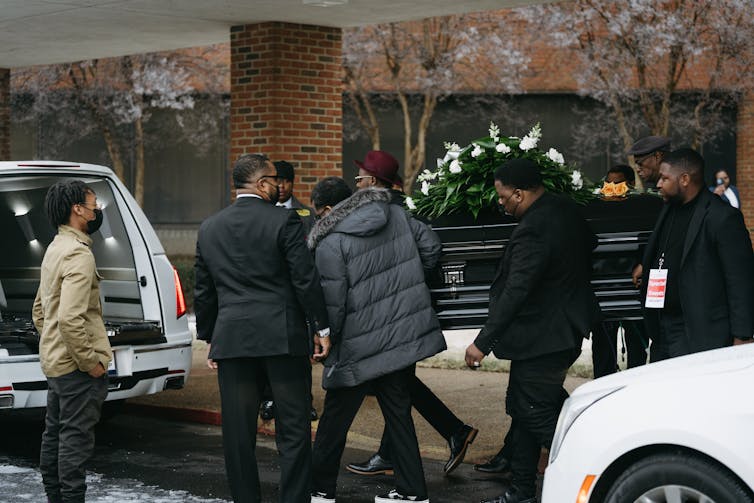 Shabazz wrote that Americans' collective surprise that five Black police officers could brutalize another Black man indicated a lack of understanding about race and racism.
---
Read more: Black police officers aren't colorblind – they're infected by the same anti-Black bias as American society and police in general
---
2. The Justice Department has found police in multiple American cities act on racial bias
Police misconduct in the United States is not unusual. In fact, over the past decade, the Justice Department has found police in cities – including Minneapolis; Louisville, Kentucky; and Ferguson, Missouri – routinely deny Black people their constitutional rights, discriminate against Black people and use excessive force, including unjustified deadly force when interacting with civilians, Shabazz also wrote:
"Police body camera footage shows officers speak disrespectfully to Black people during traffic stops; about four of every 10 Black people say police have unfairly stopped them; and Black people are more than three times as likely to be killed by police during interactions. These experiences explain why Black people have negative views of police."
As Shabazz wrote, the unequal treatment of Black people by police stems from the history of slave patrols policing African Americans in the South.
Black people, though, have not been the only targets of police discrimination. Historically, police discriminated against Mexicans and Mexican Americans in the Southwest and the Irish – before they were considered white - in the North. White Southerners, white Southwesterners, and white people in the middle and upper classes in the North, however, were not subjected to police abuse or racial discrimination.
Not surprisingly, because of their different experiences with police, Black and white people view police differently.
---
Read more: Police treatment in black and white – report on Minneapolis policing is the latest reminder of systemic racial disparities
---
3. Police officers who brutalize citizens do it repeatedly
Often, the same police officers who engage in misconduct – such as witness intimidation, evidence tampering and coercion – do the same thing from one case to another, wrote Jill McCorkel. A scholar of law and the criminal justice system at Villanova University, McCorkel works with people in Philadelphia who were wrongly convicted of crimes.
"In the aftermath of the police shooting of Michael Brown in Ferguson, Missouri, the Department of Justice found that the department had a lengthy history of excessive force, unconstitutional stop and searches, racial discrimination and racial bias," McCorkel wrote. "The report noted that the use of force was often punitive and retaliatory and that the overwhelming majority of force – almost 90% – is used against African Americans."
But McCorkel wrote that civilian review boards that can conduct their own investigations and impose discipline may be a solution to the problem.
"Research at the national level suggests that jurisdictions with citizen review boards uphold more excessive force complaints than jurisdictions that rely on internal mechanisms," she wrote.
---
Read more: Police officers accused of brutal violence often have a history of complaints by citizens
---
4. Police often shielded from accountability
Negative cultural myths about Black people and backing from the powerful Fraternal Order of Police together serve to justify a culture of police violence and shield police officers from accountability for their misconduct, Shabazz wrote.
As a consequence, sometimes people who have been abused by police or whose loved ones were killed by police seek police accountability in civil courts. That's what Nichols' mother, RowVaughn Wells, did when she filed a US$55 million federal lawsuit against the individual police officers who beat and killed her son. That lawsuit also targeted the Memphis Police Department and the city of Memphis.
"In Louisville, in Minneapolis and across the nation, Black people have complained about police misconduct only to have those complaints ignored while white people's complaints of misconduct are more likely to be sustained," Shabazz wrote.
But Shabazz also wrote that homeless people who, like African Americans, are heavily policed and viewed as criminals, are also often the victims of police deadly force. And the mentally ill are routinely on the receiving end of police misconduct.
---
Read more: The law often shields police officers from accountability -- and reinforces policing that harms Black people, homeless people and the mentally ill
---
Editor's note: This story is a roundup of articles from The Conversation's archives.
Read These Next
The imposition of fines and fees on people unable to pay has had a disproportionate impact on Black…
New England has thousands of miles of stone walls. A geoscientist explains why analyzing them scientifically…
This lawsuit is only the latest chapter in a battle between the state and the reproductive health care…