Yes, debates do help voters decide – and candidates are increasingly reluctant to participate
Debates have played an important part in the American political process. And when candidates don't participate, democracy suffers.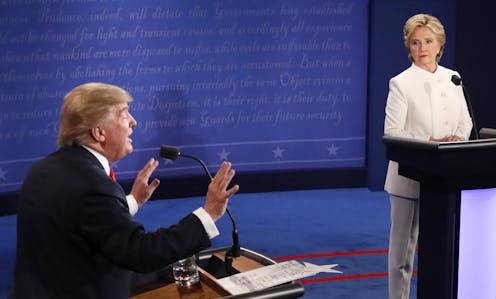 Former President Donald Trump's threat to skip the first Republican presidential debate, scheduled for Aug. 23, 2023, may be a sign that candidate debates will be the next casualty in the highly polarized political environment in the United States.
For Trump, the leading contender for the 2024 Republican presidential nomination, refusing to participate in a debate is nothing new. In 2020, amid the COVID-19 pandemic, he skipped a general election debate because it was moved online.
As is common for incumbent presidents, Joe Biden will not participate in Democratic primary debates, even though he is being challenged by Robert F. Kennedy Jr., whose support polls at 14%, and author Marianne Williamson. Her polling average is at 5%, which was the polling threshold for Democratic presidential candidates in 2020. The Democratic National Committee is not sponsoring presidential debates this election cycle, and Biden has ignored calls from Kennedy and Williamson to debate.
But Trump and Biden aren't the only candidates in recent years to nix debate participation. In 2022, fewer U.S. Senate and gubernatorial candidates agreed to debate their opponents than in previous election cycles. In fact, on the statewide level, the number of candidates taking part in debates has been declining since at least 2016.
Based on these trends, it's likely debate participation will decrease again – across the board – during the 2024 election cycle.
As a professor of political science and a professor of communication, we evaluate how presidential candidates communicate their messages to the public during campaigns.
While presidential elections are rarely decided on the debate stage, there is strong evidence that viewers draw on the information they learn in debates to make voting decisions.
Political debates are rooted in history
Presidential debates are a historical linchpin of modern American politics. Debates put the major contenders on the same stage and allow voters the opportunity to see how candidates explain – and defend – their policy positions.
Among the earliest reported examples of candidate debates in the United States were the 1858 U.S. Senate showdowns between Republican Abraham Lincoln and Democrat Stephen Douglas. The candidates held seven, three-hour debates across Illinois, focused on whether new states should be permitted to allow slavery.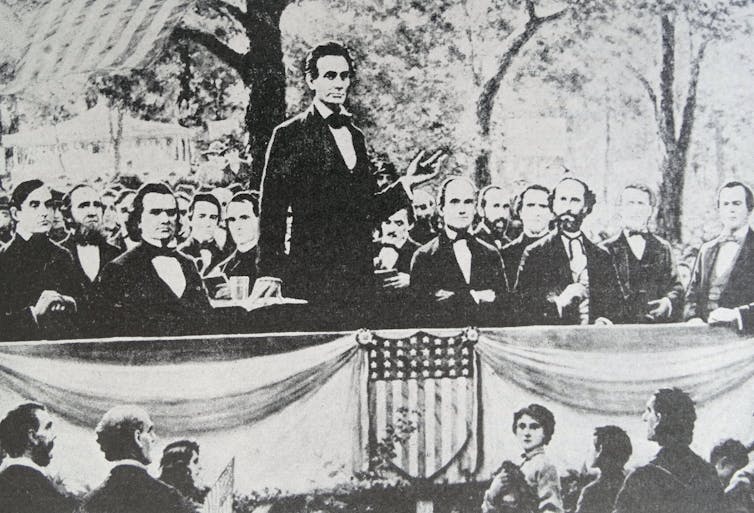 In 1956, the first televised presidential debate featured Democrat and former Illinois Gov. Adlai Stevenson facing Senator Estes Kefauver of Tennessee, also a Democrat, and it was a fairly restrained matchup. Each seeking their party's nomination for president, the candidates took similar positions on school integration, atomic energy and foreign policy during the one-hour debate. They differed over whether the U.S. should discontinue hydrogen bomb testing.
After Stevenson won the primary and Democratic nomination, he selected Kefauver as his running mate.
But the initial, and perhaps most famous, general election presidential debate was in 1960. That's when Republican Richard Nixon sparred with Democrat John Kennedy. This debate, the first in a series of four during that election cycle, was memorable because it highlighted the important role physical appearances play in presidential contests.
Radio listeners thought Nixon – then the sitting Republican vice president – had won. But his five-o'clock shadow and pale skin caused television viewers to proclaim Kennedy the clear winner. Decades later, nationally syndicated columnist Bruce DuMont said, "After that debate, it was not just what you said in a campaign that was important, but how you looked saying it."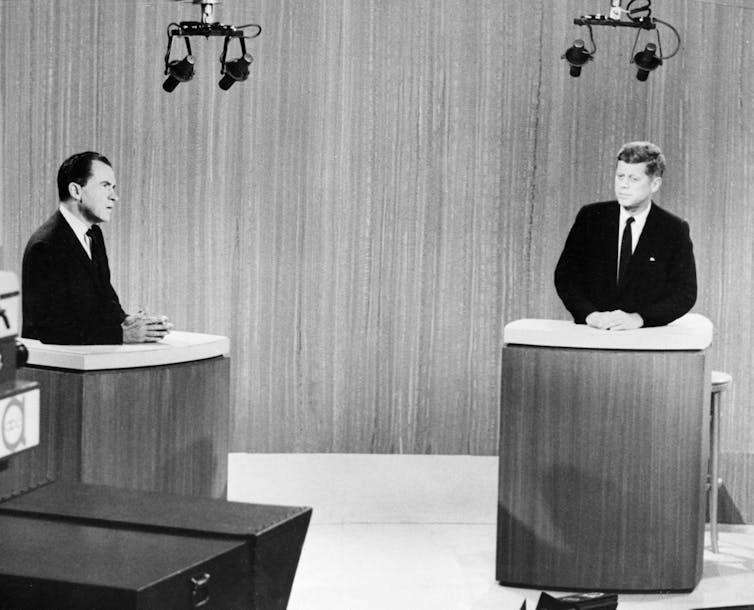 That first Nixon-Kennedy face-off was also important because of the large television audience – more than 70 million Americans watched – and the small boost it gave Kennedy in a closely contested election. According to Gallup polling, Kennedy went from being down by 1 percentage point before the debate to being up by 3 percentage points after the debate.
But after the Kennedy-Nixon debates, there wasn't another general election presidential debate until 1976 because some candidates refused to participate in the process. In 1964, Democratic President Lyndon Johnson, the overwhelming favorite, refused to debate the Republican nominee, Barry Goldwater. And in 1968, Nixon would not debate Democrat Hubert Humphrey because of his own dismal performance against Kennedy in 1960. Nixon also refused to debate George McGovern, a Democrat, in 1972 because he had a 39-percentage point lead in the polls in early September.
Debates are central to political campaigns
However, since 1976, debates have been an integral part of modern presidential campaigns. In 1976, Republican incumbent Gerald Ford agreed to debate Democratic challenger Jimmy Carter because Ford was sagging in the polls after pardoning Nixon. There were three debates – the first on domestic policy, the second on international policy and the third on any topic. Carter credited the debates for his win, noting that "They established me as competent on foreign and domestic affairs and gave the viewers reason to think that Jimmy Carter had something to offer."
In 1980, Carter skipped the first debate because independent candidate John Anderson was included. So, Carter and challenger Ronald Reagan, a Republican, faced off in just one debate, a week before the election. Polls gave Reagan a slight edge in the debate, in part because he used his famous "There you go again" line after Carter accused him of opposing Medicare.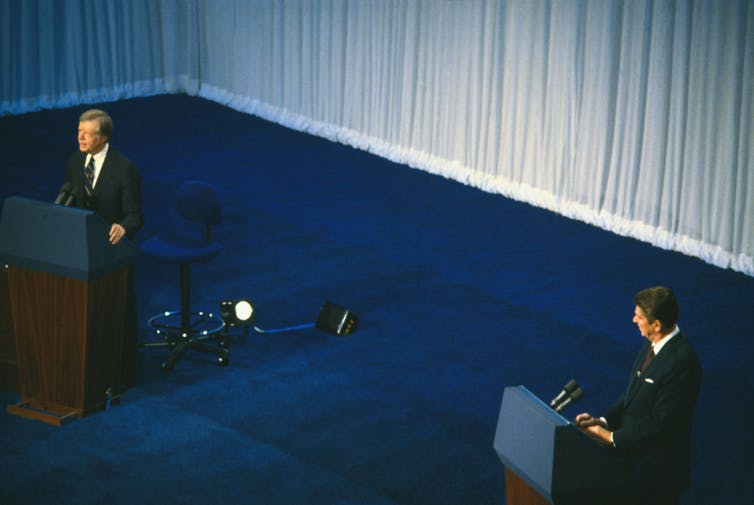 The Commission on Presidential Debates was established in 1987 "to ensure, for the benefit of the American electorate, that general election debates between or among the leading candidates for the offices of President and Vice President of the United States are a permanent part of the electoral process," and has sponsored all the debates since 1988.
Since the commission took the helm, there have been two or three presidential debates each cycle.
For voters, debates matter
Beyond tradition, there is considerable evidence from scholars in communication and political science that debates play important roles in our political system.
Communication scholar Steven Chaffee has shown that debates can influence an individual's vote choice when one of the candidates is relatively unknown, when many voters are undecided, when the race appears close and when party allegiances are weak.
Communication scholars Mitchell McKinney and Benjamin Warner have empirical findings that show presidential primary debates, where less is known about the candidates, have a much greater influence on vote choice than general election debates. They analyzed surveys of general election and primary debate viewers between 2000 and 2012 and discovered that only 3.5% of general election viewers switched from one candidate to the other, but 35% of primary election viewers changed their candidate preference.
McKinney and Warner also found that debates enhance an individual's level of confidence in their political knowledge and their tendency to vote.
In the same study, the scholars also demonstrate that debates can reduce a citizen's political cynicism, measured in part by the levels of trust and confidence they have in politicians.
Given the rich tradition of presidential debates and the strong evidence that they help educate voters, we believe a lack of candidate participation will harm voters.
Academic research demonstrates that if citizens can see Biden and Trump – and their primary rivals – discuss their positions on the debt ceiling and whether they believe the U.S. should continue its support of Ukraine in its war against Russia, candidate answers could inform their electoral decisions, make them more confident that they have the knowledge to vote and decrease their cynicism about politics.
But if candidates won't take part, voters – and democracy – will be worse off.
The authors do not work for, consult, own shares in or receive funding from any company or organization that would benefit from this article, and have disclosed no relevant affiliations beyond their academic appointment.
Read These Next
Drexel researchers evaluated a 2014 program implemented by Kevin Bethel when he was deputy police commissioner…
Food systems are increasingly disrupted by climate disasters, while also being a major contributor to…
A scholar of political deception says there is something especially deceitful about George Santos, and…