US Army Maj. Gen. George H. Thomas' journey from enslaver to Union officer to civil rights defender
A Southerner, Maj. Gen. George H. Thomas was a racist enslaver before the Civil War. But he fought for the Union because he prioritized his oath to defend the Constitution over state interests.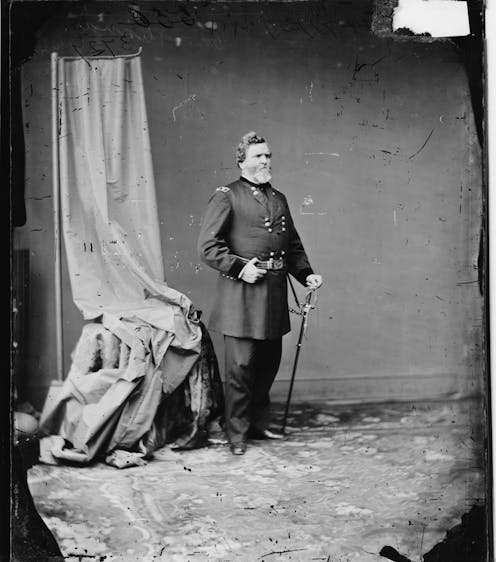 As Southern states tear down Confederate statues and the military removes the names of Confederate generals from bases, the issue of how to remember the Civil War is increasingly prominent.
Are white Southerners condemned to think of themselves as the bad guys, the ones who were willing to destroy the Union to preserve slavery? Or are there other types of heritage in which they can take pride?
Growing up in Virginia in the 1970s, I was taught that Confederate generals like Robert E. Lee and Thomas "Stonewall" Jackson were heroes who fought to defend their native state from Northern aggression.
As an adult, I read more widely about the Civil War and became fascinated with Union Maj. Gen. George H. Thomas, who grew up in Virginia but joined the Union army. I'm a sociology scholar today. But, as a student of historical sociology, I researched and wrote a biography of Thomas to understand his decision.
While most people talk of the Civil War in terms of the North versus the South, in reality the conflict was between secessionists, who favored leaving the United States, and Unionists, who wanted to keep the country together. While most Southerners favored secession, there were many Southern Unionists.
Hundreds of thousands of African American Southerners supported the Union by escaping slavery and serving in the Union army. But there were thousands of white Southerners who also supported the Union. George H. Thomas, known to history as "the Rock of Chickamauga," is the most prominent of them.
Born in Southampton, Virginia, in 1816 to a wealthy family of enslavers, Thomas entered the U.S. Military Academy at West Point when he was 20 years old and became a career military officer. He served during U.S. conflicts with Native Americans and with distinction in the Mexican-American War, which ended in 1848.
When the Civil War broke out, nearly all the Southern career officers left the U.S. Army to serve in the Confederacy. But, as his adjutant and first biographer wrote in "The Life of Major-General George H. Thomas," Thomas viewed his oath as an army officer to defend the Constitution as more binding than his feelings of loyalty to his native state.
Led African American troops
During the Civil War, Thomas first commanded a cavalry brigade in an attack of Virginia. He rose through the ranks to command a division, then a corps and, finally, an army.
After winning a battle at Mill Springs, Kentucky, in 1862, he served in the campaigns to capture Nashville, Chattanooga and Atlanta.
Thomas' most significant contribution was at the Battle of Chickamauga in Catoosa and Walker counties, Georgia, fought Sept. 19-20, 1863, where he held the field with a hastily improvised force after the majority of the Union troops had been routed. His bravery and skill earned him the nickname "the Rock of Chickamauga," and his defense saved the Union force from destruction.
When Union Maj. Gen. William T. Sherman took his army on its march through Georgia, Thomas stayed behind to defend Tennessee from the Confederates. At the Battle of Nashville, waged December 15-16, 1864, Thomas and the 72,000 soldiers under his command nearly destroyed a 23,000-man Confederate force, taking thousands of prisoners and leaving the states of the western Confederacy under Union control.
At Nashville, Thomas commanded thousands of African American troops. His colleagues in the military later recalled that Thomas viewed African American troops as inferior soldiers, not suited to offensive operations, and he relegated them to a part of his line that he thought would see no fighting. They attacked anyway, enduring huge losses in repeated charges against Confederate entrenchments.
Touring the battlefield after his victory, Thomas saw the African American dead piled in heaps before the Confederate fortifications. As a subordinate officer, Thomas J. Morgan, recalled, Thomas remarked, "Gentlemen, the question is settled. The Negro will fight."
The sacrifices of African American soldiers at Nashville and elsewhere were a heroic and tragic act, with meaning and significance that went far beyond their effect on the opinion of a single person. But their sacrifice profoundly changed Thomas' racial views. Having seen African Americans as living up to his ideal of soldierly virtue, he began to view them as full human beings who had earned the rights of citizenship.
Enslaver turned civil rights defender
During and after the war came the Reconstruction Era, the period from 1863 to 1877 when the U.S. government worked to integrate the formerly enslaved into society and unite the country, Thomas commanded the Union force in Tennessee. There he protected newly freed Blacks from racist local officials and the Ku Klux Klan.
Here, my biography traced new ground, drawing upon military records in the National Archives to discover Thomas' role. He used military courts to enforce fair labor contracts between white landowners and Black workers.
And in 1867, Thomas used military courts to try former Confederate soldiers who were now members of the Ku Klux Klan and other white terrorist groups, on the grounds that they had violated the terms of the paroles they had signed at the time of the surrender of the Confederate armies. As "The Papers of Ulysses S. Grant" indicate, Thomas used this tactic for several months before one former Confederate challenged his arrest as unconstitutional. When the U.S. District Court judge ruled the prisoner must be released, Thomas wanted to appeal the decision to the U.S. Supreme Court, but the attorney general's office declined to support him.
When white local officials in Nashville began to arrest African American adults and teenagers for vagrancy, a legal maneuver that allowed the officials to hire out the formerly enslaved for forced labor on plantations, Thomas threatened the officials with military detention, and they let the prisoners go. He protected Black voters from white violence at the polls and continually lobbied his superiors in Washington to provide him with more troops and more authority to protect the freedmen.
Once a racist enslaver, he distinguished himself after the war in his active protection and promotion of the rights of formerly enslaved persons.
Thomas stands today as an example of the thousands of white Southerners who supported the Union during the Civil War and a rare example of a slave owner who changed his views on race and slavery. His military career demonstrated skill and bravery, but his true heroism was a moral one.
In my view, as the military assesses new names for bases formerly named after Confederate generals, Thomas' name deserves consideration.
Christopher Justin Einolf does not work for, consult, own shares in or receive funding from any company or organization that would benefit from this article, and has disclosed no relevant affiliations beyond their academic appointment.
Read These Next
Rupert Murdoch is a major media figure, but he may not be as influential as most people think.
With the TV writers and actors strikes leaving networks with little scripted content, the fall 2023…
States sometimes choose to pay for the release of their citizens held hostage abroad – but there could…